Image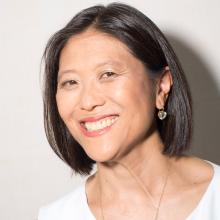 R. May Lee
Vice President and Chief Strategy Officer for Institutional Impact
R. May Lee is Vice President and Chief Strategy Officer for Institutional Impact, a role that is a key part of the Rensselaer plan to enhance our national and international standing, as well as making RPI a force in the local and regional ecosystem.
In her role as Vice President and Chief Strategy Officer, Lee works closely with senior leadership on a wide range of issues of strategic importance to RPI, with responsibility for prioritizing key initiatives and ensuring successful progress and execution.  This office partners with stakeholders across the university with the resources and oversight to accomplish the goals set forth by the board, president, and university leadership.  Lee also assists in guiding the development and implementation of the Institute's next Ten-Year Strategic Plan focusing on: innovation in education; expansion of research and research partnerships; translation of ideas to impact; regional engagement; and building an accessible, welcoming, and inclusive Rensselaer.

Lee served as the Dean of the School of Entrepreneurship and Management at Shanghai Tech University, a new university created by the Shanghai government, from 2014-2018.  As the inaugural dean, she created a curriculum for Chinese science and engineering students grounded in the Social Sciences to teach critical thinking, promote creativity, and provide basic business knowledge.
Prior to joining Shanghai Tech, Lee led New York University's (NYU) initiative to establish a full degree-granting campus in Shanghai, the first American university granted such permission. Taking the seed of an idea, and as Acting Vice-Chancellor, she functioned as the interim academic head and COO; she led negotiations with NYU's Chinese counterparts, obtained governmental approvals in both regions (local and central level) and managed all U.S. stakeholders, including the Board of Trustees, deans, faculty across six schools, and the heads of all relevant operational functions. In addition, she assembled the core management team, ultimately leading to a bicultural, bilingual co-located team of 120 people in New York and Shanghai.  Her strategic vision and ability to create new paradigms resulted in an inaugural class of 300 students entering in September 2013.
Lee's career also includes senior positions as an executive on Wall Street, at Merrill Lynch (where she was the Chief of Staff to the CEO) and Goldman Sachs; experience as an entrepreneur in the technology and digital marketing sectors; and leadership positions in non-profit organizations.
She is currently an executive board members of the New York Academy of Sciences, Chair of the Board at the Van Alen Institute, and a lifetime trustee with NYU School of Law.  She holds a J.D. from New York University School of Law and a B.A. in History and Economics from the University of Pennsylvania.
Lee brings to RPI a deep knowledge of and expertise in innovation ecosystems, entrepreneurship, and higher education and STEM. She most recently came to RPI as an adjunct professor of entrepreneurship and architecture.