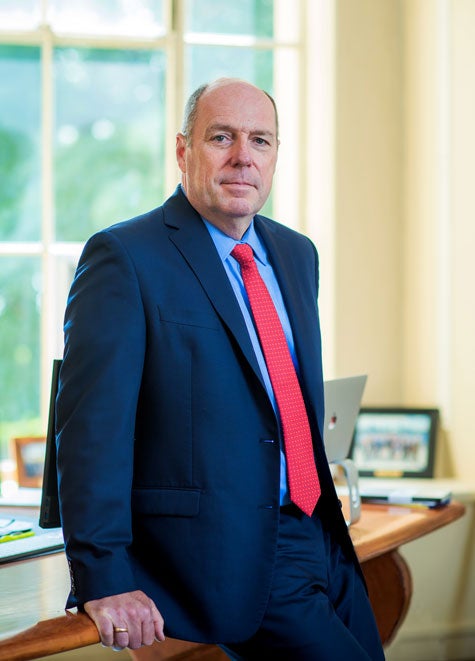 Dear Members of the RPI Community,
Today, I began my first day as your President. Since the announcement of my appointment last November, my family and I received an overwhelming amount of support through notes, messages, and yes, even RPI swag, from the community. My wife Lyn, our four adult sons, and two dogs are very excited to be welcomed back so warmly to campus, to Troy, and the overall global RPI community of faculty, staff, students, alumni, parents and friends. As I left Troy in 1981 as a 21-year old graduate to begin graduate school at MIT, I never could have imagined the humbling opportunity that officially began today. It is with great emotion, pride and determination that I begin my tenure to join with you in taking RPI to even greater heights as we look toward our bicentennial celebration in 2024.
Through the course of the interview process, I learned a great deal about RPI. Further, Lyn and I took time to explore the campus and downtown. Having last seen the area in 1981, it was striking how beautiful the campus was, as well as how much more vibrant Troy had become. I accepted this amazing opportunity because I believe that RPI stands on a solid foundation, with a long and distinguished history of accomplishments. We are not without our challenges, but, as I spent the last months becoming more familiar with RPI, I am even more convinced of the exciting future ahead of us. I am grateful to President Jackson for all she has done to advance RPI, and for her support through this transition in leadership.
Taken all together, I remain exceptionally excited and honored to assume this role. Lyn and I look forward to being part of the campus community, and to learning more. Therefore, it is my priority over the next several months to really get to know the community. My goal is to meet as many of you as I can and learn about your hopes and passion for our future.
Over the coming weeks, you can expect to hear more from me about my immediate plans. In the meantime, I want to wish you a restful and rejuvenating July 4th holiday. I am keenly aware of the difficulties we have all faced through the pandemic and therefore appreciate the importance of taking time off.  I am committed to keeping you connected and informed as we begin our important work together – in bringing RPI to the next level, and making new memories.
I look forward to meeting you over the coming months. Thank you for your pride and belief in the value of RPI.
Sincerely,
Marty Schmidt '81
"Rensselaer's adventurous innovation and focus on the most important research, technological, and social questions of our time will continue, as will the continued development of global leaders trained and guided to improve humanity and our planet. I am certain that Marty Schmidt will further raise, inspire, and strengthen RPI's place in the world."
Arthur Golden, Chairman of the Board of Trustees at Rensselaer Polytechnic Institute
Chairman's Statement to the Community