Image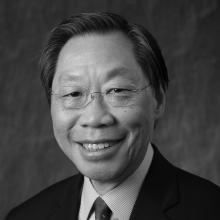 Jackson P. Tai '72, MBA
Former Vice Chairman and Chief Executive Officer, DBS Group Holdings Ltd / DBS Bank Ltd.

Active Trustee: 2001 – current ~ Adjunct Trustee: 1999 - 2001
Jackson Tai '72 is a non-executive director of HSBC Holdings PLC, Eli Lilly and Company, MasterCard Incorporated, Royal Philips NV, and Canada Pension Plan Investment Board. He is also a director of privately held Russell Reynolds Associates.
Tai was vice chairman and chief executive officer of both DBS Group Holdings and DBS Bank from June 2002 to December 2007. He joined DBS as chief financial officer in July 1999 and was appointed president and chief operating officer of DBS from January 2001. DBS Bank is one of the largest financial services groups in Asia. Prior to joining DBS, Tai served as an investment banker with J.P. Morgan & Co. Incorporated from 1974 to 1999. While at J.P. Morgan, Tai established the firm's Japan capital markets business, based in Tokyo; founded the firm's global real estate investment banking business, based in New York; served as the firm's senior officer for Asia Pacific, based in Tokyo; and served as the firm's senior officer for the Western United States, based in San Francisco. Previously, Tai was a non-executive director of The Bank of China, Singapore Airlines, NYSE Euronext, ING Groep NV, CapitaLand, Singapore Telecommunications Ltd, the Islamic Bank of Asia, Jones Lang LaSalle and privately held Brookstone. In the not-for-profit sector, Tai is a director of the Metropolitan Opera, and a member of the Harvard Business School Asia Pacific Advisory Board and the Harvard China Advisory Board. Previously, he was a director of the Asian Art Museum of San Francisco and the San Francisco Symphony. Tai received a Bachelor of Science degree from Rensselaer Polytechnic Institute in 1972, and a MBA degree from Harvard University in 1974. Tai was born and raised in Chinatown, New York. Updated March 2018