Gary T. DiCamillo '73, MBA
Image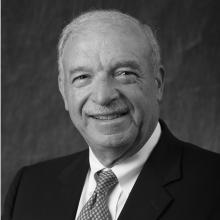 Gary T. DiCamillo '73, MBA
Managing Partner, Eaglepoint Advisors LLC
Active Trustee: 1996 - current
Gary T. DiCamillo is the Managing Partner for Eaglepoint Advisors, a board and senior management advisory firm based in San Francisco and Charleston, SC. In his role, Mr. DiCamillo advises private equity and other financial sponsors on turning around underperforming companies and assisting those undergoing rapid change, leveraging his 35+ years of turnaround management experience.
Prior to Eaglepoint, Mr. DiCamillo was the President and Chief Executive Officer of Universal Trailer Corporation from 2017 to 2020. In this position, based in Elkhart Indiana and Cresco Iowa, he oversaw 4 enclosed trailer companies and 7 manufacturing locations in the Mid West. He previously was President and CEO of Advantage Resourcing (US and UK), a group of privately held technical, professional and commercial staffing companies based in Dedham, Massachusetts. In this position since July 2002 through July, 2009, Mr. DiCamillo oversaw six staffing companies in the United States and Europe, growing revenues to $1.5 Billion. Previously, he was Chairman and Chief Executive Officer at the Polaroid Corporation for nearly seven years. He also has served as President of Worldwide Power Tools and Accessories at Black & Decker Corporation and VP/General Manager for Culligan U.S.A., a division of Beatrice Corporation. He began his career in Brand Management at Procter & Gamble Co., followed by several years as a manager at McKinsey & Company.
 Mr. DiCamillo is a board member of the Whirlpool Corporation and Purple Innovation Corp. He previously served on the Board of Directors of 3Com Corp., Pella Corp., Universal Trailer Corp., Employbridge Corp., TAC Worldwide Corp., and EIL Instruments. He serves on the boards of trustees at Rensselaer Polytechnic Institute, the Museum of Science in Boston, and Spoleto Festival USA. He also taught an MBA level course in Turnaround Management at Babson College for seven years (2011-2017). He was appointed to the President's Export Council by President Clinton in 1997-2000 and has served on several industry boards of directors including the National Manufacturer's Association and the Conference Board. Mr. DiCamillo is a 1975 graduate of Harvard Business School where he earned an MBA. He also holds a Bachelor of Science degree in Chemical Engineering from Rensselaer Polytechnic Institute.