Thank you all for coming to my first Spring Town Hall as president of RPI. 
It is hard to believe that it has been nine months since Lyn and I moved here. In some respects, it feels like the time has flown by, but in other ways, it's amazing to think of all that has happened in this time. In September we welcomed the largest first year class in the history of RPI (I am happy to let the faculty know that we are on track to have a class size this year which is closer to our annual target of 1650!).
Lyn and I have had the chance to visit 15 cities and meet with more than 2500 alumni and parents. I've had the opportunity to meet with many faculty, staff, and students in small group sessions, but also have tried to visit all the major academic and administrative units at RPI. We've celebrated an inauguration, homecoming and a reunion where three classes returned to campus to recognize their 50th reunion in person after the pandemic, parent and family weekend, a holiday concert and a holiday gathering in ECAV. We've seen some tremendous accomplishments by our students and faculty.
In athletics, there have been successes for both individuals and teams.
I think many in the community enjoyed watching as we won the Dutchmen's Shoes, as well as the Blackout and Big Red Freakout, and the Women brought home the Mayor's Cup. This spring we launched our middle states reaccreditation, started our strategic planning process and began scoping our bicentennial activities.
Lastly, I've had the chance over these 9 months to meet in person with key leaders in the community across the entire Capital Region. This is a region that is rich with talent, and I get excited thinking about what we can do together.
Taking it all in, Lyn and I continue to feel blessed and honored to be part of this wonderful community. 
Today, I want to talk to you about four things. First, I'll discuss the financial state of the university, and where we will be going over the next few years, and what we need to do to get there.
I then want to talk about some things we are doing right now to hopefully address some of the pain points you shared with me in the fall. 
I want to update you on the work of the Climate Survey Task Force.
I'll end with some remarks about the strategic planning process.
Let me begin with the financials, and I'll use two charts here to explain things. This first chart shows our forecasted revenue and expenses for the current fiscal year (FY23).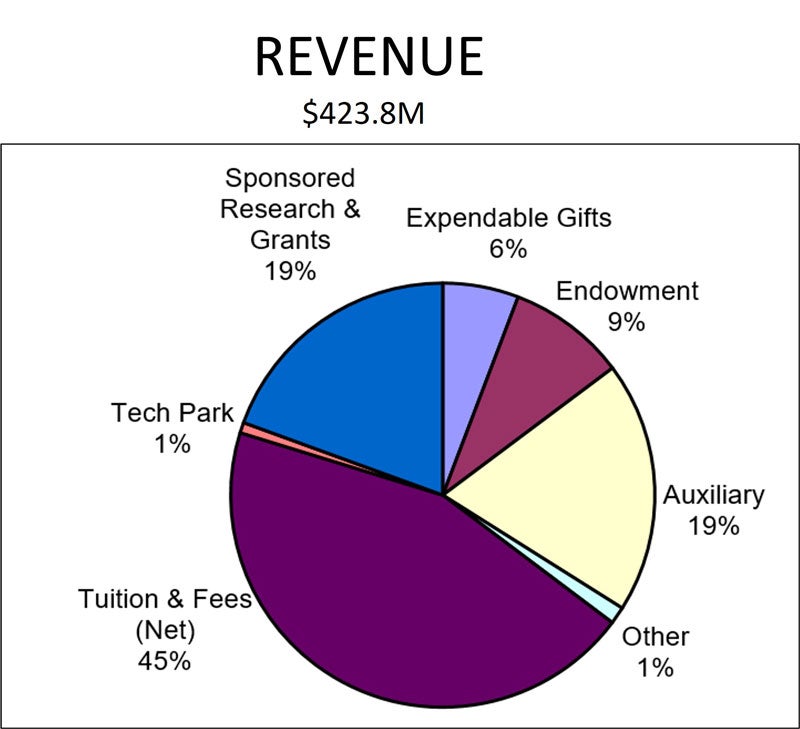 As you can see the largest revenue item is net tuition, followed by sponsored research and auxiliaries (the latter being principally comprised of housing, dining, and the health center). It is worth noting that more than 60% of our revenue derives from undergraduate and graduate education. Sponsored research is the next largest piece at 19%, followed by return on the endowment and expendable gifts, which together provide 15%.
On the expense side, as you might imagine, roughly half of our expenses are in people (salaries, stipends and fringe benefits).
You will also notice that forecasted expenses exceed revenue by approximately $18M. The largest driver of this is an increase in the payments we needed to make this fiscal year into the pension fund. This is a fund that serves over 1,000 of our retired faculty and staff. We had budgeted this to be $6M but we have had to increase this to $17M. This was a result of a negative investment performance of the pension fund as well as a growth in interest rates. Together, these have required us to increase what we contribute to the pension plan. Fortunately, we had approximately $6.5M in unexpended set asides which reduced this shortfall to about $11M. In order to balance this year's budget, the remaining shortfall will be drawn from reserves as I'll explain in a later slide.
Let me now talk about the plan for the FY24 budget and beyond.
Our work on the budget has been largely guided by working to restore RPI to its historic size in terms of faculty and staff. Throughout the past nine months, I have heard from so many of you that you are spread too thin, and so returning to a sustainable size seems like the right priority, and an urgent one.
In the period of 2010 to 2015, RPI averaged about 350 Tenured and Tenure-Track faculty and about 1,300 staff. At the beginning of this year, our T/TT faculty count was 285 (down from 350) and our staff count was 1,081 (down from 1,300). Effectively, we are down to about 80% of our historic size.
The FY24 budget, which the Board approved last week, gives us the resources to return to 350 faculty, and brings the staff level to 1,279 (21 positions short of our 2010-2015 numbers). It will take some time to fill the faculty slots, and we can expect some attrition due to retirements and other circumstances, but I am pleased that budget gives us the scaffolding to plan in earnest to return to our previous size. Beyond FY24, our multi-year plan supports fully funding all 1,300 staff slots.
Initially, we will focus some of the staff allocations to areas that will allow us to grow and plan for the future. We'll be adding a number of staff in the Institute Advancement office to help drive growth in our philanthropic support and alumni engagement.
We'll add two staff to facility planning to build our plan for comprehensive renewal of the campus buildings, as well as staff to support sponsored research and efforts that continue to support student retention and success.
In addition to this, to support our graduate students, we will increase stipends by 5.3%. For Resident Assistants, we will phase in over two years increased support in the form of a meal plan.
In both instances, these were challenges that were raised to me during my listening tour in the fall, and which we decided to address in this year's budget. 
With respect to graduate students, the increase in stipend helps to address affordability issues, but there are some additional things we are focused on which I'll discuss a little bit later.
With respect to the Resident Assistants, our goal was to make their support more in line with what our peer institutions offer, and this increase of $800K/year to our expenses once fully funded will move our support for RAs into the upper 1/3 of our peers.
Regarding the Resident Assistants, as many of you probably are aware, a union intending to represent the RAs have filed with the National Labor Relations Board to have an election to unionize. Some of you have asked me to address this in my remarks, so let me take a moment to provide some comments on this.
On Monday, February 6th, a group of Resident Assistants presented a petition asking that RPI voluntarily recognize the union, and to respond within 5 working days. I requested the opportunity to meet with the Resident Assistants and share with them my concerns about voluntary recognition and to get their input before making a decision. Unfortunately, they were not able to meet in the time before their 5-day deadline.
I decided that we should not voluntarily recognize the union, and rather proceed with an election. My thinking on this was that even though they presented a petition signed by about 75% of the Resident Assistants, I did not feel it was appropriate for the administration to take away from all the Resident Assistants the right to vote in a free, fair and confidential election, which by their practice, would be administered by the NLRB. The process for filing for an election is very straightforward, and if the administration does not oppose the election or contest the bargaining unit (which we did not do), I knew that the election could be held within about 8 weeks. Indeed, the day after I shared my decision with the union, they filed with the NLRB, and as you may know, the election will be held on Wednesday and Thursday of next week in the Student Union.
I believe it is important that every Resident Assistant participate in the election. In some cases, a Resident Assistant will be making a decision for future Resident Assistants since their time as an RA will end this semester as they graduate or otherwise move on, whereas the negotiations for a contract would likely run well past this semester (in many recent unionizations on college campuses, the negotiations have taken a year or more). The key point is that the election will be decided by a majority of those who vote, not a majority of the RAs. For that reason, I very much hope all the RAs exercise their right and responsibility to so that the election results represent the views of all the RAs. 
Some of you have asked me what is my own opinion on this. I would first state that I respect their right to pursue unionization.
Some of the areas of concern are purely financial, and as we have demonstrated with this budget, we have the capacity to listen and respond. However, some are largely non-financial. I believe that working cooperatively together, we have greater flexibility to address our shared concerns. Regardless of the outcome, we can (and will) do everything we can to address their concerns.
For those of you that had asked me to address this topic, and I hope this satisfied your request.
Let me now return to the discussion regarding finances, and in particular talk about the financial modeling we have done that looks out over a 5-year horizon.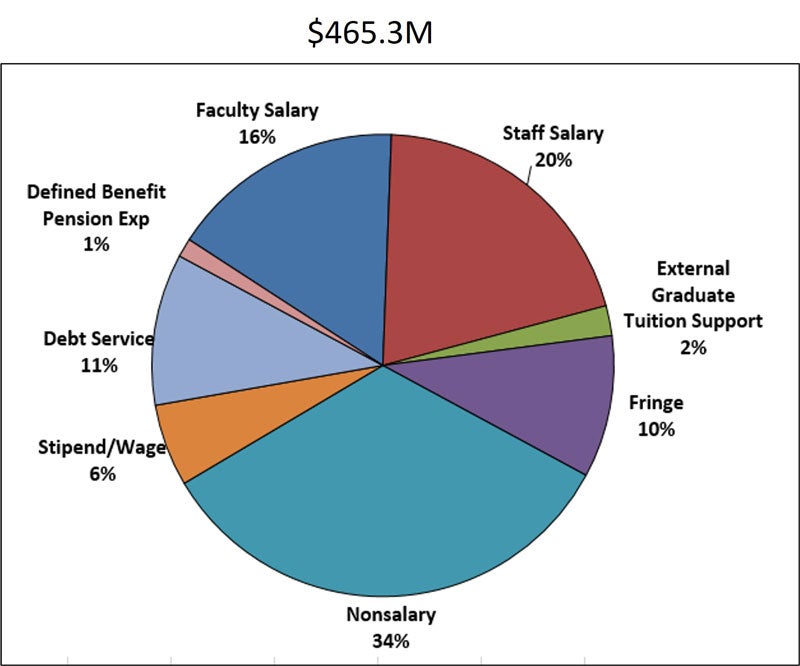 Working closely with all of the portfolio managers, we developed a budget model which is based on revenue growth in three areas: sponsored research, professional education, and philanthropy, while maintaining our core residential educational activities.
In sponsored research, we expect to see growth based on the increase in research active faculty as well as investments we are planning in research support staff.
In professional education, Rensselaer@Work, our team in Hartford, is working aggressively to grow our offerings, and in philanthropy, we are counting on the investments in accelerating staffing of IA to grow contributions to RPI.
An important element of the growth in these three areas (sponsored research, professional education, and philanthropy) is that they ultimately will give us a more diversified base of support upon which the university relies for its operation and provides us more budget resiliency.
Let me now share the following chart which shows our net results from FY19-F22, and our projections from FY23 to FY28. By net results, I mean our revenue minus expenses.
What you see from this chart is that in the past four years, the university operated with modest positive results. As context, a $10M positive outcome on an overall budget of approximately $400M translates to about a 2.5% change of actuals to budget. These past four years did allow RPI to build up an appropriate financial reserve (what I would call 'working capital') of approximately $60M. Our estimate is that maintaining a reserve of this scale (10-15% of our annual expenditures) is important should we encounter some unexpected challenges in a given year. Most importantly, this 'cushion' helps us avoid drawing on our line of credit, or drawing principle from unrestricted endowment.
As I mentioned earlier, in this current fiscal year (FY23), we are forecasting a net negative result of a bit more than $10M, and we will have to rely on the working capital to close this gap.
Based upon our growth models, in FY24, FY 26 and FY27, we project a balanced budget, but in FY25, we anticipate the need for another significant pension contribution which results in a net negative result.
Importantly, the budget forecasts for FY24 and beyond do count on continued 'invest to grow' activities by drawing funds from working capital or the endowment to fuel the return to a healthy size and to support the areas of growth. These investments will vary from $8M-$9M annually.
We could have taken a less aggressive approach, more slowly ramping our faculty and staff to draw less from our reserves. However, I think it important to move quickly here. It is a strong sign of support from our Board that they are willing to entertain this investment proposition, but it will be incumbent upon us to continuously monitor our progress and make adjustments as needed.
Work has already begun with the VPR Office, HR, and Finance identifying what are the needs to rebuild research support – benchmarking the level and type of support. And with Rensselaer at Work, collaboration has already begun among the Deans and departments on identifying the high need programs.
But, as we work towards a more sustainable financial model, the Cabinet and I have been actively seeking opportunities to make some less costly but meaningful improvements—addressing some of the issues that came to the fore during my initial listening tour.  We are looking for changes we can make that do not have a significant financial or operational impact, but substantially improve the quality of life at RPI.
Let me share some of what we have come up with.  
1.  Resident Assistant:
Some additional issues have been raised regarding Resident Assistants that we will address, but how we do that process-wise will depend upon the outcome of the election.
2.  Recently, we learned about concerns regarding food insecurity amongst our students. This is a growing area of concern across many university campuses. An area where this is most acutely felt is with our graduate students with dependents, particularly our graduate students with children, or our international graduate students whose partners may not be able to work due to vias restrictions. We are actively looking at what we can do to address this in the short term and in the long term.   
3.  We are streamlining our procurement processes. Together, members of our Faculty, Research Community, Procurement Services, and the Division of Finance identified a few key changes we could make easily:   
 
We now allow out-of-pocket purchasing under $2500, without pre-approval, when options are not available in OSCAR, with just a few exceptions and assuming the faculty or staff member has Institute funds to offset the expense.
We are increasing the bid threshold from $5,000 to $10,000.
We have implemented Amazon Business as a punch-out catalog in OSCAR, with some restrictions.
And we are improving awareness of the punch-out process in OSCAR, as a quick way to purchase products that can be delivered in just a few days.  
 
I am really heartened by the partnership between faculty and staff on this, and I believe there will be more to come as we work collaboratively on this.  
4.    In the spirit of strengthening our position as an employer of choice, I have been working with the Division of Human Resources on several meaningful improvements for which I will share with you:  
5.    We are increasing the tuition benefit for our employees and their dependents. You will hear about the details of this from HR, but our intention is to support our mission to attract and retain top talent. One way to do this is to increase the amount of tuition remission for employees and their dependent children from 75% to 90%. This is a real and impactful commitment to make RPI and employer of choice.  
6.    We will continue to study and analyze pay equity amongst cohorts and portfolios and make necessary pay adjustments.  
7.    I am happy to say that we are going to accede to popular demand— and stop charging PTO time during the period when the Institute is closed for the holiday winter break. In a genuine effort to recognize your hard work and dedication, these days will be charged as Staff Appreciation Days, and will be fully funded by the university. We will make sure that essential employees that work during this time will be made whole with respect to PTO.  
8.    And we are going to add a new holiday to our employee leave calendar, beginning in fiscal year 2024, for Juneteenth, commemorating the nation's second independence day and the end of slavery.
Last week, I received the final report from the Climate Survey Task Force. Their report, which benefited from community feedback on the draft report sent out in December includes a number of excellent recommendations for us moving forward, based on the 2021 climate survey of faculty and staff. Within the next few weeks, I will share their final report to the entire community, along with a detailed response from me on how we will address the recommendations.
I can share with you now that one of their recommendations is that we perform regular climate surveys, a recommendation that I strongly embrace. This week (I hope), we are sending out a survey to all of our students (since they were not included in the faculty/staff 2021 survey). I want to thank our Grand Marshall, Cait Bennett, for her partnership in developing this survey. Our intention is to perform these surveys every other year going forward so we are attuned to what our staff, students, and faculty are thinking. As we are doing with the faculty and staff climate survey, we will share the results, and together we can continue to work to improve our programs and services.
And lastly, let me talk about the strategic plan
For the long term—to realize all of the fantastic opportunities in front of us over the next decade—we are moving ahead with our Rensselaer Forward strategic planning process.
We have put in place five committees, for each area of opportunity I identified at my inauguration:  
1.    Education, led by our Acting Provost Mary Simoni and Professor Shayla Sawyer of our Department of Electrical, Computer, and Systems Engineering;   
2.    Research, led by our Vice President for Research Robert Hull and Professor Karyn Rogers of our Department of Earth and Environmental Sciences;  
3.    Translation of our ideas, led by the co-director of our new Center for Engineering and Precision Medicine, Institute Professor Jonathan Dordick; and the director of our Severino Center for Technological Entrepreneurship, Professor Jason Kuruzovich;  
4.    Regional Engagement, led by our Vice President for Institute Advancement Matthew Ter Molen, and Professor Dennis Shelden of our Center for Architecture Science and Ecology; and  
5.    A Welcoming and Inclusive Community, led by our Vice President for Student Life Dr. Peter Konwerski and Professor Nishtha Langer of the Lally School.  
 
In that welcoming and inclusive spirit—we have established a public Idea Bank for thoughts from the wider community on our strategic plan at ideabank.president.rpi.edu.  I urge you to contribute, and I promise you that each working group will be reviewing what is submitted!
I expect a draft set of ideas from our committees in June, which we will share with you. Our goal is to have the plan completed by the end of this calendar year.
Now, I have the great pleasure of announcing the recipients of the honorary degrees we will award at Commencement:
First, we are going to honor Dr. Marilyn Simons, who is co-founder and co-chair of the Simons Foundation, one of the most important philanthropic organizations funding research in basic science and mathematics in the United States.
Second, we are going to honor Dr. Gordana Vunjak-Novakovic, University Professor and Mikati Foundation Professor of Biomedical Engineering at Columbia University. She has done groundbreaking work in tissue engineering, both for regenerative medicine and for drug testing customized to the patient. 
We are so delighted to be bringing these women leaders in science and engineering to Troy. We will use this opportunity to put the spotlight on some of our own distinguished women faculty.
A lot of very exciting things are happening at RPI. 
We are working closely with our regional partners to take full advantage of the opportunities opened by the Chips and Science Act of 2022 and its focus on establishing leadership for the U.S. once again in semiconductor manufacturing. 
Next week, we will have a grand opening of the new Center for Engineering and Precision Medicine in New York City in conjunction with the Icahn School of Medicine at Mount Sinai. 
By bringing together Rensselaer's expertise in all things computational and in many different fields of science and engineering with Mount Sinai's treasure trove of clinical data and clinical experience, we are really going to advance precision medicine.
So, we are that much closer to a long-term goal of leadership along the entire route of the Hudson River!
We are also beginning to plan for a 200th birthday party for RPI in 2024 that will help us tell the Institute's story and alert the world to the amazing work taking place here in research and education today. I could not be more optimistic about the future of RPI and the opportunities ahead. 
Thank you to our students and student leaders; the Faculty and Faculty Senate; our Leaders across the university; our staff; and Lyn.