FY 2021 Update to the Rensselaer Community
From the President's Desk
To: The Rensselaer Community
Re: FY 2021 Update to the Rensselaer Community
As the FY 2021 academic year ends, I would like to take this opportunity to share a few highlights of where we are as a university.
Leading Through COVID-19
The COVID-19 pandemic has challenged the world and the Rensselaer community is no exception. Students, faculty, and staff adapted to an ever-changing landscape, which has allowed us to continue to provide a safe and high-quality in-person living and learning experience for our students.
The challenge of something as widespread, dynamic, and serious as the COVID-19 pandemic called for responses that were timely, thoughtful, focused, and courageous. We may not have welcomed the moment, but we were prepared for it. Before emergency rooms were overwhelmed, and prior to the deep bite of economic dislocation, Rensselaer was already aggressively developing solutions to fulfill our mission of instructing in, and applying science to, the common purposes of life, and to contribute to solving this unprecedented challenge. Rensselaer has experts, technologies, frameworks, and perspectives that were able to meet the moment.
We have a history of taking on the most demanding issues - requiring knowledge, understanding, analysis, discernment, and experience - and reaching beyond the Institute to the larger world. In the past, some endeavors, such as the space program, presented new opportunities to tackle problems as wide-ranging as aerospace engineering, space communications, materials engineering, and computation. Others, such as the transcontinental railroad, suggested unimaginable opportunities that could be impactful in creating a strong economy and higher living standards. But, responding to a worldwide disaster, such as COVID-19, tested us in different ways. There was an urgency because the stakes included health, social stability, economic welfare, and life itself. This was not a crisis that could be put aside - it has been unremitting. It requires new solutions every day.
Across our campus, we had the technological capabilities, operational agility, and financial management needed to meet the challenges of the pandemic. From the technical side, certainly our Center for Biotechnology and Interdisciplinary Studies stands out as a center for assessment, molecular modeling, and therapeutic interventions. Its contributions ranged from providing the reagents and equipment to detect infections to searching for vulnerabilities in the virus.
We were cognizant of the larger health care community, which faced scarcities. At our Manufacturing Innovation Learning Laboratory, we adapted our manufacturing capability to provide much-needed personal protective equipment. As a member of the COVID-19 High Performance Computing Consortium, Rensselaer provided pandemic researchers around the globe with access to our supercomputer, AiMOS, the Artificial Intelligence Multiprocessing Optimized System, in support of research related to the disease.
This was a crisis that intertwined science and technological answers with social factors. Its complexity required comprehensive planning. As part of our multifaceted health and safety plan, we de-densified the campus, reducing the number of faculty, staff, and students on the campus at any given time - in residence halls, in dining halls, in classes, in labs, and on campus as a whole. For the Fall 2020 semester, the freshmen, juniors, seniors, and experimentally based graduate students were invited to be on campus. Sophomores continued to take remote instruction through the Fall 2020 semester, and returned for in-person instruction during the Spring 2021 semester. Sophomores then progressed through summer 2021 for the Arch summer term. For the Spring 2021 semester, along with the sophomores, the freshmen, seniors, and experimentally based graduate students were invited to be on campus, while the junior class took their Arch away semester.
We also adjusted schedules to reduce travel, such as closing the campus from Thanksgiving to late January.
Masks, social distancing, and hygiene were included in our plan. Using simulation, available data, and the advice of our experts, the heart of our plan became what we call T3SQ/I℠ (Testing, Tracing, Tracking, Surveillance, and Quarantine/Isolation). We created a program for meeting our own testing needs, with a schedule and process for turnarounds adequate to create margins of safety for our community. We developed the skills and structure to do our own contact tracing, so that we could take action quickly when tests returned positive results, squelching any spread. Our taking responsibility for testing and tracing kept our community safer, helped us to understand ongoing risks, and opened up the availability of outside resources to those beyond our campus.
We leveraged our expertise in information technology to create the Daily Interactions and Activities Log (DIAL) app. This application provides vital tracking information when infection is detected. We also used smart phone location information to detect and analyze information that is key to understanding social distancing, including identifying congestion points on campus that might threaten safety.
Led by our deans, we reshaped the Rensselaer learning modalities to minimize risk for our community, and to reduce on-site density through online and hybrid learning. In keeping with the Institute mission to prepare the next generation of world-changing leaders, students learned how a range of disciplines might respond to the most pressing global health challenge of the modern era.
We continue to lead in research that builds understanding and knowledge of COVID-19, and the epidemiological factors that are essential to meeting the challenges it presents. Our comprehensive plan builds on our deep subject matter expertise, our skills in collaborating across disciplines, and our leadership in research, testing, modeling, and manufacturing. We have leveraged that expertise to keep the campus community safe, to continue to provide a world-class education, and to provide solutions to the challenges presented by COVID-19.
Enrollment
While the pandemic resulted in an unusually high number of committed students either withdrawing or deferring their Fall 2020 enrollment, the demand for a Rensselaer education has never been stronger. We had over 17,500 applications for a place in the coming year's freshman class. In August, we will welcome to campus one of the most talented and diverse classes in our history. Students continue to be attracted to Rensselaer because of the exceptional quality of our faculty, the strength of our distinctive programs, and our rising reputation. I thank our deans and department chairs for their leadership, and all of our faculty for their expertise, collaboration, and commitment.
Research Highlight – Launch of EBESS
In April, during my remarks at the Leaders Summit on Climate convened by President Joe Biden, I announced the launch of the new Rensselaer Institute for Energy, the Built Environment, and Smart Systems (EBESS). Formed in partnership with Siemens, Lutron Electronics, Brooklyn Law School, the building engineering consulting firm Thornton Tomasetti, and the international architecture firms HKS, OBMI, and Perkins&Will, the New York City-based institute will use the most advanced digital technologies to drive decarbonization of urban environments at the systems level.
EBESS will model integrated transportation, communications, and supply chain networks. It will link architectural design and engineering to create infrastructure that is both net-zero in energy use and climate resilient. It will also use new materials, renewable energy systems, and sentient building platforms to maximize human health and well-being.
The new institute will integrate research across centers and schools at Rensselaer, including the Center for Architecture Science and Ecology (CASE) and the Lighting Enabled Systems & Applications (LESA) Center. From its primary location in New York City, CASE has driven collaborative innovation in sustainable architecture and the built environment for more than a decade. LESA is a graduated National Science Foundation Engineering Research Center dedicated to developing autonomous intelligent systems to address modern challenges in the connected environment.
Financial Results and Position
While the changes in mode of instruction implemented during Fiscal Year 2021 enabled significant de-densification of classrooms, Institute residence halls, and dining facilities, and the extensive health and safety protocols Rensselaer implemented helped keep the Rensselaer community safe, they did have fiscal impacts. These changes, combined with lower than anticipated freshman enrollment in Fall 2020, resulted in approximately $60 million in lost revenue since the start of the pandemic. Additionally, the pandemic is not over yet and we will continue to implement health and safety protocols. Therefore, Rensselaer anticipates incurring approximately $14 million of unanticipated expenses in Fiscal Year 2021.
The Institute has received federal assistance (unaudited) of $12,111,792 from the Higher Education Emergency Relief Funds (HEERF I and HEERF II) provided in the Coronavirus Aid, Relief, and Economic Security Act (CARES Act – HEERF I) and Coronavirus Response and Relief Supplemental Appropriations Act (CRRSAA – HEERF II). Of these funds, $4,831,791 was distributed as emergency financial aid grants to students with the highest need and $7,280,001 provided direct support to the Institute for costs and lost revenues related to the COVID-19 pandemic.
As a result of the Institute's experience in Spring 2020, and the level of uncertainty for Fiscal Year 2021 resulting from the pandemic, the Institute has operated under a revised budget for Fiscal Year 2021 that was based upon conservative assumptions. Continued expense reductions and receipt of federal aid have led to current operating trends that are more favorable than originally forecasted. We expect to realize a modest operating surplus on a full-accrual basis for Fiscal Year 2021.
Revenue and Expenses
Thanks to our strategic investments in students, faculty, and the campus, as well as increases to the endowment and declining debt, we are well-positioned for the future.
Our market position and financial status continue to strengthen. Fiscal Year 2021 results reflect strong revenue growth and expense management that continue to drive an increase in net assets from operating activities. Operating margin also remains strong.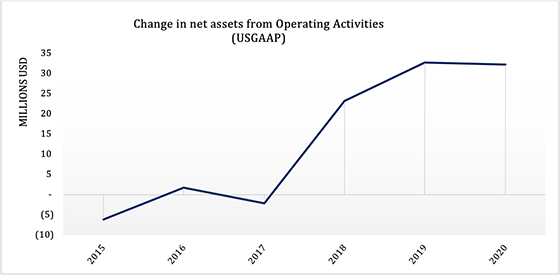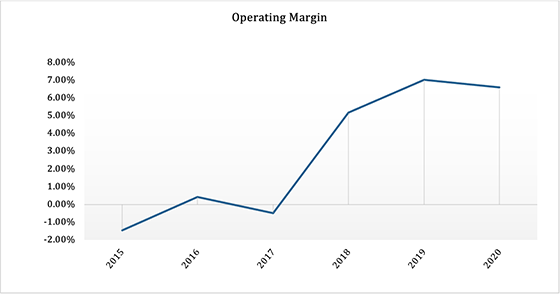 We have had sustained improvement in cash flow from operations, enabling strengthening of financial position, including the funding of existing pension liabilities and debt reduction.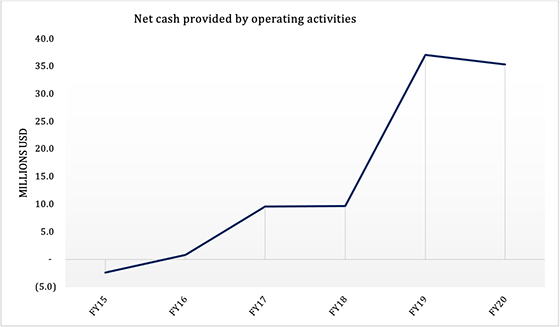 Financial Investment
Over the past 22 years, Rensselaer has invested over $1.4 billion in the implementation of The Rensselaer Plan, of which more than $850 million has been invested in campus facilities. Over $200 million of these investments were made in core infrastructure improvements, including the upgrade and expansion of classrooms, labs, student life program facilities, residence halls, dining facilities, and facilities for the hiring of new faculty.
We expanded the electrical capacity for the entire campus, and improved our technological infrastructure, which enabled the creation of the most powerful computational capabilities at a private university. For transformational leadership in critical arenas, investments were made to develop the Center for Biotechnology and Interdisciplinary Studies (CBIS), the Curtis R. Priem Experimental Media and Performing Arts Center (EMPAC), the East Campus Athletic Village (ECAV), and the Center for Computational Innovations (CCI). These investments have enhanced the student experience, enabled the development of new academic programs, and expanded research into important new areas. These key investments were funded through a combination of gifts, internally generated cash, and debt.
Pension Liability
We remain committed to ensuring that commitments made to retirees, faculty, and staff who are participants in the legacy defined benefit pension plan will be honored by ensuring that the plan has the necessary assets needed to meet its obligations. As part of this commitment, Rensselaer has made over $261 million of contributions to this plan since Fiscal Year 2000. Of these contributions, $138 million was funded through long-term borrowings. Given the improvement in the financial position of the Institute since 2015, no additional debt has been incurred in support of the pension plan and future contributions are anticipated to be funded with cash from operations. Fiscal Year 2021 contributions to the plan were $18.2 million.
The Crossover
To make the needed strategic investments and to ensure the health of the defined benefit pension plan, we incurred $750 million of debt (including $138 million for the defined benefit pension plan), peaking in Fiscal Year 2015. Because of the prudent financial management, and return on our strategic investments, in Fiscal Year 2017, we committed to "The Crossover," an eight-point cost-saving and asset-generation plan to consolidate and strengthen the balance sheet. A key milestone in this plan was to have long-term debt and endowment equalized by Fiscal Year 2020, a goal which was achieved by the end of Fiscal Year 2018, well in advance of the target date.

* FY17 reflected the sequester of the July 2017 advance repayment of $5 million
** Long-term debt outstanding excluding $13 million of debt associated with the financing of the IBM Supercomputer
As of April 30, 2021, the endowment value exceeded $1.05 billion. We also anticipate a $4-$5 million reduction in outstanding debt as a result of refunding Series 2002E tax-exempt bonds.
The continued growth of our endowment and long-term debt management reflects our ongoing commitment to the enhancement of the financial strength of Rensselaer.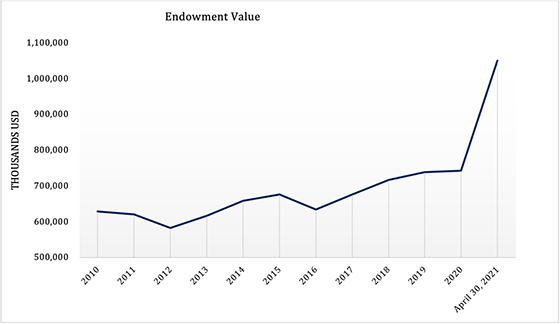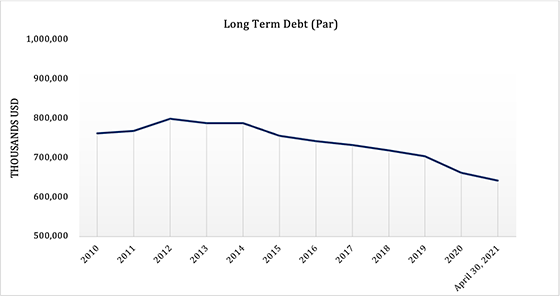 FY2022 Outlook
The endowment is critical because it anchors our long-term future, especially through its support of students with financial aid and faculty with endowed chairs. We have continued to strengthen the balance sheet and our financial position. The yearly operating results reflect the challenges we have faced, and continue to face, that we have overcome through stringent financial and operating management, with the strong support and goodwill of the entire Rensselaer community.
Transformative: Campaign for Global Change
Our capital campaign, Transformative: Campaign for Global Change, is well underway. The three pillars of the campaign are:
Bridging the Gap: Create and build stronger endowment for student financial aid;
The Faculty 500: Create new endowed chairs to attract and retain the best faculty; and
Building the Third-Century Campus: Expand and equip the Troy campus for its third century.
Together with Institute leaders, we have continued to engage, throughout the pandemic, with the Rensselaer community and our friends. More than 34,000 donors have made commitments to the campaign, and we have made significant progress to date on the first pillar - Bridging the Gap. In total, commitments to Bridging the Gap now exceed $143 million - due in no small part to the generosity of our alumni/ae, friends, and industry partners.
I am also pleased to share that commitments in support of the second pillar - The Faculty 500 - have reached over $61 million to date. Our third pillar - Building the Third-Century Campus – will allow us to create the next generation of high performance computing infrastructure, to expand student housing and athletic facilities, and to expand our academic and research capabilities, including a new multidisciplinary Center for Science.
We are well on our way to our billion-dollar goal, and we look forward to reaching the three-quarter point of the campaign in the near future. With the ongoing and robust support of the entire Rensselaer community and our partners, and a steadfast commitment to The Rensselaer Plan 2024, I have every confidence that we will succeed in continuing to build the endowment we need.
We are off to a strong start for the next academic year. I look forward to the rich and rewarding semester ahead. I personally thank the entire Rensselaer community. Together, we will change the world.